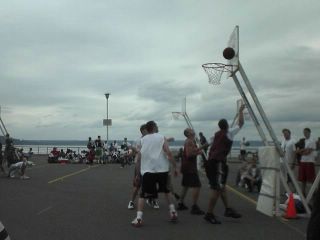 Yesterday I swung by the Waterland 3 on 3 basketball tournament at the Des Moines marina - not only to watch a little hoops but to visit with Paps who was on duty at the site.
The guy laying up the ball in this picture was my favorite of the tournament. He had a sweet jumper and was quick to drive to the hoop against any height.
There is a girls bracket too, so next year I'm gonna recruit a couple friends and were going to take the Waterland 3 on 3 by storm.