sarah's wedding...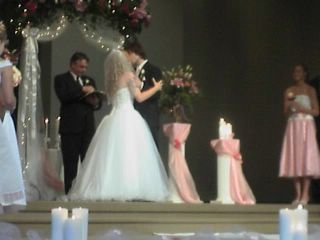 This wedding was my favorite because Sarah and Barry read their own vows and they were written incredibly sincerely. Barry cried through his and Sarah ended hers with "I love you sweetie." It was perfect. Okay fine, I admit, the real reason it was my favorite wedding is that I made it on the slideshow - that means something right? Oh and I shouldn't forget to mention that I was seated in the family section: 2nd row baby, yeah!!!
The wedding decor consisted of all different shades of pink and was complimented with white candles. Sarah and Barry's first dance was to Shania Twain's From This Moment, a duet with Bryan White. They serenaded each other while twirling around the dance floor and everyone watched goo-goo eyed - all slowly turning into hopeless romantics.
Sarah met Barry when she was visiting her friend's boyfriend at Pacific Lutheran University. The boyfriend's roommate happened to be Barry. Sarah came home that day and told her mom that she had met the one she was going to marry - buuuuuut Sarah said this about every guy she fancied.
There was laughter, dancing, dessert, conversation and another fondu fountain. After satisfying my stomach with ice cream cake and starbucks coffee (yep they had starbucks, not surprising since both Sarah and Barry and Sarah's mom Susan work for sbux) I joined the rest of the crowd to send the newlyweds off in a stretch limo with a myriad of bubbles.